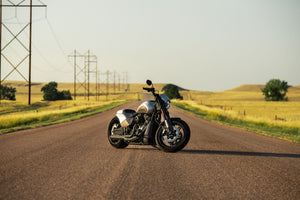 The ultimate air ride suspension.
Arnott Motorcycle Air Suspension Catalog
DOWNLOAD
BROWSE INSTALLATION MANUALS
LEARN MORE
Arnott Air Suspension Products Catalog
DOWNLOAD
TruAIR® Technology
Unlike many competitors, Arnott's TruAIR® technology is true adjustable air suspension, not simple air cylinders, 'air-assisted' shocks or automotive castoffs. Arnott's TruAIR® Onboard Adjustable Air Suspension technology provides superior comfort, adjustability and great looks. Arnott kits offer fast, on-the-fly adjustable air spring firmness using a powerful onboard compressor. Arnott motorcycle air suspension kits are fully adjustable and based on height and weight so riders can rest flat-footed while stopped and enjoy a more comfortable ride on long-distance runs, riding two-up or with luggage. Arnott kits are designed and tuned specifically for motorcycles. Even if the air spring sleeve is fully deflated, the fender won't touch the tire unlike automotive-designed shocks installed on motorcycles.
LEARN MORE